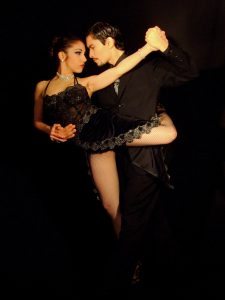 Following its seventh sold-out season at the Peacock Theatre in London's West End, the award-winning Tango Fire returns to tour the UK from 12 February to 2 March 2020. Starring internationally renowned Argentinean Tango superstars German Cornejo and Gisela Galeassi, who are joined by a cast of Tango dancers including World Tango Champions, this is a fiery and explosive journey through the history of authentic Argentine Tango.
Six couples show off some of the speediest footwork in the business, while demonstrating their individual styles, accompanied by the Tango Fuego Quartet. They will play live music on stage from Tango's most famous composers, including Piazzolla and Pugliese.
German Corenjo's past choreography experience includes Immortal Tango (2016), Tango Inferno – The Fire Within (2010/2011), Mission Tango Show (2007) and Tango Dance Premium (2007). Tango Fire will tour to Warwick Arts Centre, Coventry; Royal & Derngate, Northampton; Assembly Hall Theatre, Tunbridge Wells; The Orchard Theatre, Dartford; Alban Arena, St Albans; Darlington Hippodrome; St George's Hall, Bradford; Royal Concert Hall, Nottingham; Liverpool Philharmonic Hall; Grand Theatre, Blackpool; Festival Theatre, Edinburgh; Hull New Theatre; Sage Gateshead; Grand Theatre, Swansea; Forum Theatre, Malvern; and Theatre Royal Brighton.
German Cornejo and Gisela Galeassi have been perfecting their Tango skills from a young age. They have won 40 gold medals at national competitions and became World Tango Champions in 2003 and 2005. They are currently regarded as two of the best Show Tango teachers in Buenos Aires thanks to their students reaching top positions year after year, in the Tango World Championships held in Buenos Aires.
German and Gisela have performed all over the globe. Some of their career highlights include starring as soloists in Jennifer Lopez and Marc Anthony's stage show Q'Viva Live under the direction of Jamie King, who has worked with Madonna and Britney Spears amongst others, and dancing in the international debut of Milonga under the direction of acclaimed contemporary choreographer Sidi Larbi Cherkaoui.