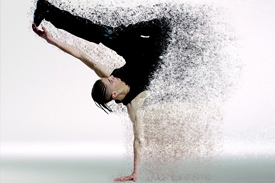 Dancers' Career Development's next EVOLVE workshop is heading to Dance Hub Birmingham on 13 October, a full day workshop for professional dancers exploring life after a dance career, offering practical tools, insight and inspiration.
The workshop is open to dancers at any stage of their career and from all genres of professional dance – from classical, contemporary to musical theatre and commercial. Attendees will have the opportunity to explore the journey of a dancer's career with like-minded people; get the tools to develop their own personal action plan and discover their potential; learn how to manage a lifelong career beyond performance and be inspired by real life stories including from DCD supported dancers.
Even if attendees are not planning to transition in the near future, EVOLVE can provide support to feel prepared for the long term future. With the ever-changing dance industry – and world – it is important to be prepared for every eventuality, however dancers' careers might turn out. Dancers' Career Development offers the opportunities to dance professionals to make those transitions and helps provide the skills in order to do this.
Dancers' Career Development is the go to organisation, and the only one of its kind in the UK, for all professional dancers regarding career transition. It has supported over 2,500 dancers in over 40 years, succeeding in a range of diverse careers, from medicine, photography and film to management, fashion and floristry.
Dancers' Career Development supports dancers from all genres of dance, from ballet to contemporary and hip hop to musical theatre, empowering them to build sustainable, long term and successful careers. It offers bespoke support which keeps the individual dancer at the heart of all that it does.
EVOLVE London will then take place on 3 November.