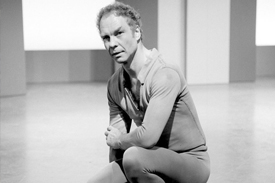 The Royal Ballet and Dance Umbrella are set to celebrate the legacy of choreographer Merce Cunningham with heritage works, international dance companies and a world premiere by Pam Tanowitz.
It is undoubtable that Merce Cunningham redefined the relationship between body, movement and music – a pioneering choreographer who changed the landscape of dance. As part of the centennial celebrations of his birth, The Royal Ballet will present two programmes in the Linbury Theatre honouring his legacy and influence.
The first programme runs from 10–11 October and features Royal Ballet dancers performing Cunningham's Cross Currents and Frederick Ashton's Monotones II, alongside a world premiere by Pam Tanowitz creating her first work for The Royal Ballet. Cross Currents was first seen in London in 1964 and inspired Ashton to create Monotones I & II in 1965. This short programme also includes a new commission from Pam Tanowitz whose choreography continues the fusion and explorations that Cunningham's work exemplifies.
Dance Umbrella: The Future Bursts In (24–26 October) is the second programme to mark the Cunningham celebrations and is part of Dance Umbrella 2019. It features two international dance companies, CNN – Ballet de Lorraine and Amala Dianor Company.
Amala Dianor Company performs Somewhere in the Middle of Infinity, a UK premiere combing Hip-Hop, African and contemporary dance. CNN – Ballet de Lorraine perform one of Cunningham's classic works, Sounddance which he created in 1975 after spending a period with Paris Opera Ballet. On returning to America he choreographed the piece to challenge the concepts of symmetry and conformity in ballet.
CNN – Ballet de Lorraine also present the UK premiere of For Four Walls which takes inspiration from Cunningham's lost work Four Walls. Premiering in 1944, Four Walls was a dance/play collaboration between Cunningham and composer John Cage. The original choreography was lost and forgotten, but the score was rediscovered in the 1970s. For the centennial celebrations, CNN – Ballet de Lorraine has reflected on Cunningham's work and created For Four Walls with choreography by Petter Jacobsson and Thomas Caley.