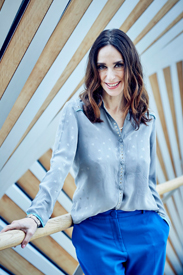 English National Ballet School has announced that the internationally celebrated Viviana Durante has been appointed as its new Director of Dance for the 2019/2020 academic year, commencing September 2019. Italian born Durante has enjoyed a distinguished career as principal dancer of The Royal Ballet, American Ballet Theatre, Teatro alla Scala and K-Ballet. She has won multiple awards, danced many major roles, originated new work, and is largely considered one of the greatest ballerinas of her generation.
Founded in 1988 by English National Ballet to train students for a professional career in dance, English National Ballet School now has a body of close to 100 students from 12 countries and is a peer of major ballet schools all over the world. As Director of Dance, Durante will oversee the classical and contemporary syllabus of dance and have a creative input into the student's development throughout the 2019/2020 academic year, an exciting moment for ENBS as it celebrates its 30th anniversary and moves to brand new premises on London City Island.
The 2018/19 academic year was an exciting year for English National Ballet School as it celebrated its 30th anniversary. The school was founded by the Artistic Director of London Festival Ballet (renamed English National Ballet in 1989), Peter Schaufuss, and was housed with the Company at Markova House. With just twelve students in the first year, the ambition was to establish a feeder School to the Company, producing dancers trained in the Company's unique style. Schaufuss appointed his ballet master Kerrison Cooke as the School Coordinator and he and his artistic team undertook all the teaching.
In January 2020 it will move to a new purpose-built home at London City Island: English National Ballet School and English National Ballet will come under one roof for the first time in 20 years. It will be based in a new East London neighbourhood, London City Island, in Canning Town, joining a thriving cultural community.