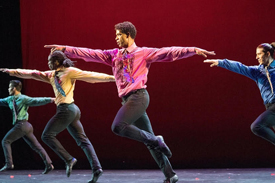 Dance Consortium has announced spring 2020 tour dates across the UK for Carlos Acosta's critically acclaimed Cuban company Acosta Danza. Named Evolution, the 2020 tour commences at Mayflower Theatre in Southampton on 3 March with performances in Cardiff, Inverness, Bradford, Brighton, Canterbury, Salford, Plymouth and Newcastle, and concludes in Nottingham on 11 April.
The 2020 spring performances follow Acosta Danza's Evolution autumn 2019 tour to Norwich Theatre Royal, Festival Theatre in Edinburgh, Birmingham Hippodrome and Sadler's Wells, London. The tour is an exciting addition to Dance Consortium's 2019 – 2020 performance schedule and continues the organisation's unparalleled commitment to bringing the best international contemporary dance to audiences across the UK. The tour marks Dance Consortium's 46th tour since 2000.
Carlos Acosta launched Acosta Danza in Havana after retiring from The Royal Ballet in 2015. Under his artistic directorship, the company pays tribute to the vibrancy of Cuban culture and features a mixture of the finest ballet and contemporary dancers Cuba has to offer. Acosta Danza's Evolution bill includes Faun by twice Olivier award-winning Sidi Larbi Cherkaoui,and Christopher Bruce's Rooster, a celebration of the 1960s and '70s in which Carlos Acosta will make a guest appearance. Completing the programme is Paysage, Soudain, la nuit by visionary Swedish choreographer Pontus Lidberg.
The spring 2020 Evolution tour includes seven audio-described performances for blind and visually-impaired patrons. Dance Consortium will work with Sightlines Audio Description Services to deliver the audio-described performances in Southampton, Bradford, Brighton, Canterbury, Salford, Plymouth and Newcastle.
Acosta Danza was created by Carlos Acosta in 2015 to develop the young creative dance talent emerging from Cuba. The ethos of the company is to produce dancers that can combine both classical and contemporary genres effortlessly, imbibed with Cuba's rich musical and dance influences, to create repertoire that is exciting and stimulating, and that pushes conventional boundaries.