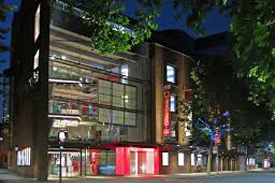 There are many highlights of the Sadler's Wells Autumn 2019 season.
Closing their national tour at Sadler's Wells, 38 of England's best young dancers – the National Youth Dance Company – draw upon the exuberant and impulsive energy of youth culture to embrace that as its identity. Employing 2018/2019 Guest Artistic Director Botis Seva's signature style fusing contemporary dance, physical theatre and hip hop, NYDC presents its new work, MADHEAD.
Following its 60th anniversary, Alvin Ailey American Dance Theater returns with new and exciting works alongside modern classics in three mixed programmes, demonstrating the unparalleled artistry that has defined the company since 1958. Ailey's masterpiece, and the company's signature piece, closes each of its shows. Performed as a prayer, Revelations veers from grief to elation as it explores African-American cultural heritage and spirituality to an emotional score of gospel music and blues.
Sadler's Wells Associate Artist and two-time Olivier Award-winner Russell Maliphant has long been fascinated by the human body. For his new work, he delves into his research and studies in anatomy and biomechanics. Drawing on a variety of movement disciplines, and setting them within a landscape of animated video projection, Maliphant and his company of dancers explore the poetry of connections between our internal and external worlds, and how they affect movement.
ZooNation's smash-hit sensation Some Like it Hip Hop thrilled audiences and critics when it opened in 2011. With a nod to Billy Wilder's Some Like It Hot and Shakespeare's Twelfth Night, it tells a comical tale of love, mistaken identity, crossdressing and revolution, all played out in ZooNation's trademark style.
Rambert2 selects its dancers for their technical virtuosity and raw energy, scouring the globe each year to seek out the next generation of contemporary dance talent. This year's ensemble performs work by two rising stars of the US dance scene: Andrea Miller, the first choreographer to be named artist-in-residence at The Metropolitan Museum of Art, and Jermaine Spivey, the award-winning dancer from Crystal Pite's company Kidd Pivot.