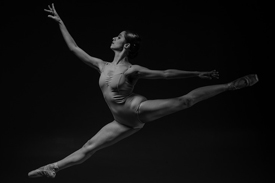 It is becoming more and more common to see ballet dancers swapping the stage for screen, and vice versa, such as Sergei Polunin and Misty Copeland starring in the Nutcracker film last year, alongside Keira Knightly. Many film and TV stars aspired to succeed in ballet before they graced the big screen too, such as Lily James of Arts Ed Tring, practising pliés and grand jetés in a studio long before the film studio. Some may be more well known than others, but they all reinforce the foundations training in ballet has for so many.
A number of these actors have gone full circle, training in dance before becoming an actor, then landing a role in a dance film. Zoe Saldana is one, with her role in Centre Stage. She has since gone on to films like Guardians of the Galaxy, Avatar and Star Trek. Neve Campbell's role in dance film The Company saw her train at the National Ballet School of Canada and perform in The Nutcracker and Sleeping Beauty. Jamie Bell first took dance classes after accompanying his older sister to ballet. Bell was then selected out of 2,000 young boys to star in Billy Elliot, and he has since acted in various films, including The Adventures of Tintin, Jane Eyre and Fantastic Four.
Sarah Hay danced with Semperoper in Dresden before being cast as the lead in Flesh and Bone. Most recently, the Golden Globe-nominated actress has been working on Jim Carrey's comedy series I'm Dying Here, and HBO's Room 104. Sasha Radetsky is a former American Ballet Theatre soloist who got his first taste of acting in Centre Stage, starring as Charlie. He retired from the stage in 2014 but has continued acting, appearing in Flesh and Bone and Nutcracker Christmas.
Sarah Jessica Parker, the Sex and the City star, trained in ballet and singing, and performed on Broadway before TV and the big screen. Charlize Theron, from South Africa, attended the Joffrey Ballet School in New York City before a knee injury halted her dance career, similar to Diane Kruger, the fashion model-turned-actor. She appeared in Troy among other films, and attended the Royal Ballet School in London before an injury ended her involvement in ballet.