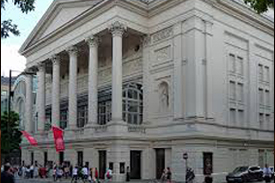 Yorke Dance Project celebrates its 20th anniversary this year, at Clore Studio Upstairs, Royal Opera House with TWENTY. New works by Robert Cohan CBE, Sophia Stoller and Yorke-Edgell feature alongside the first restaging of Sir Kenneth MacMillan's Playground since its Edinburgh Festival premiere, by Sadler's Wells Ballet in 1979.
MacMillan began work on Playground with the Orpheus myth in mind. In rehearsal the Orpheus character mutated into an intruder at a psychiatric hospital. As the blurred lines between madness and sanity are explored, MacMillan's playground becomes more like a prison with four inmates acting out fantasies of childhood. Years after the work's creation, MacMillan acknowledged that Playground drew on his own memories of his mother and her proneness to epilepsy. Original cast members Susie Crow and Stephen Wicks are working on the recreation.
Since legendary choreographer Robert Cohan returned to live in London in 2013, Yolande Yorke-Edgell has been determined to preserve his legacy and to support him in the creation of new work. Now at the age of 94, Cohan has created Communion, his sixth work for Yorke Dance Project and his first for a large ensemble for 20 years. Mythic and life-enhancing, Communion is designed by Cohan's former London Contemporary Dance Theatre collaborator, John B Read. For the London performances, Cohan has extended the work to include guest artist Laurel Dalley Smith from the Martha Graham Dance Company.
Between and Within is a new work by emerging LA-based choreographer Sophia Stoller. The creation of the piece began during the Cohan Collective residency in LA in January 2017. Four dancers play out the complex dynamics of a relationship between two people. Two of them face off, journeying from resentment and anger to resolution and acceptance. Two of them play out the characters' inner dialogues and internal conflicts. The dance becomes a duet of duets as the struggle takes place between and within.
Yolande Yorke-Edgell's latest work Imprint pays tribute to the three choreographers who have been most important and influential throughout her career as a dancer: Richard Alston, for whom she danced at both Rambert and his own company, Bella Lewitzky whose LA company she joined in 1994 and Robert Cohan with whom she has worked so closely over the past few years.