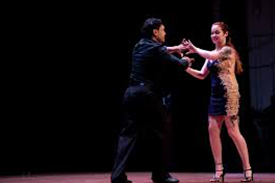 Established in 2014, Sadler's Wells' hugely popular Elixir Extracts Festival returns to the Lilian Baylis Studio from 14 – 16 June.
At this year's festival, Sadler's Wells' resident over-60s performance company Company of Elders celebrates 30 years of older adults' arts provision at the theatre, with a world premiere from choreographer Alesandra Seutin. Fresh from her debut on the Sadler's Wells stage as part of 2018's Reckonings, Seutin presents her new work alongside Natural, a piece created for the company by choreographer Clara Andermatt in 2005. Both pieces appear on the Lilian Baylis Studio stage on Friday 14 June.
Offering a platform to non-professional older artists, Elixir Extracts Festival celebrates lifelong creativity and challenges the assumption that dance is only for the young. In addition to Company of Elders' Friday performance, the festival features two more evenings of performances, alongside dance masterclasses in a range of styles and suitable for all abilities.
On Saturday 15 and Sunday 16 June, older adult dance groups from around the UK showcase their work, demonstrating the diversity to be found across the country in two different programmes. Groups include Liverpool's Men! Dancing!, London-based Caribbean creole group Caribbean Orchid, and Glasgow's Scottish Ballet Elders Company.
Elixir Extracts Festival also benefits from local community outreach. In the months preceding the Festival, Islington-based community centres Drovers, Holloway Neighbourhood Group, Brickworks and St Luke's have been mentored by professional dance artists from flamenco, Bollywood, African and social hip hop genres to create fun and inspiring choreography. Their work can be experienced as part of the Festival weekend.
Since 1989, Company of Elders, Sadler's Wells' inspirational resident over-60s performance company, has been demonstrating the power of lifelong creativity and proving it is never too late to start dancing. What attracts choreographers to work with these performers is a mixture of their relative newness to dance, coupled with an adventurous spirit and enthusiasm for challenging themselves.