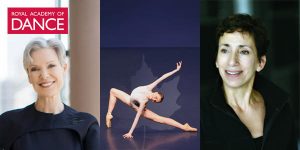 Toronto is set to host one of the world's most prestigious dance events, the Genée International Ballet Competition from 20-19 August.
The Royal Academy of Dance will bring the Genée International Ballet Competition, one of the world's most prestigious ballet competitions, back to Toronto for the first time since 2008. The finest young dancers from around the globe working within the RAD syllabus will take part in an intensive week of coaching from world-renowned teachers and choreographers. This year's Commissioned Choreographer, Montreal-based Gioconda Barbuto will create two variations which will receive their world-premiere at the Final at the Four Seasons Centre for the Performing Arts.
The competition will also mark a special celebration of Karen Kain, Artistic Director of The National Ballet of Canada. The RAD has announced that Karen Kain will be the first Canadian to be awarded its highest honour, the Queen Elizabeth II Coronation Award. The RAD has chosen to recognise Karen Kain in celebration of her 50 years with The National Ballet of Canada, and her incredible contribution to the world of ballet, both as a renowned dancer and one of the most distinguished leaders in dance today. This is the first time this award will be bestowed outside of the UK. She will be honoured on her home stage and home country, as the Genée returns to Canada in more than a decade.
Hosted in a different country each year, the Genée is a unique competition that champions teaching and self-development. It is open to dancers aged 15-19 that have passed the RAD Intermediate and Advanced 2 examinations in Classical Ballet with distinction. Each year, over 50 dancers from around the world enter the competition to partake in five days of coaching to perfect three different solos: a 19th or 20th century variation, a piece choreographed specifically for the candidate, and finally a world-premiere by that year's Commissioned Choreographer. Candidates then compete for the prized gold medal in two days of Semi-Finals, and the Final.
Karen Kain will sit on the judging panel for the Genée Final alongside Dame Monica Mason, former Director of The Royal Ballet, Mikko Nissinen, Artistic Director of Boston Ballet and Magdalena Popa, Principal Artistic Coach of The National Ballet of Canada (Semi-Finals only).