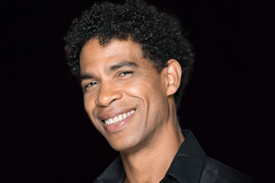 Birmingham Royal Ballet announced last week that the internationally renowned Carlos Acosta CBE has been appointed as its new Director. He will take up his appointment in January 2020. It follows the news earlier this year that David Bintley CBE, the current Director, will be standing down as Director in July 2019 at the end of the current season. The new Director will work alongside the company's Chief Executive, Caroline Miller OBE who was appointed on a permanent basis just before Christmas.
Carlos will follow on from the foundations laid down by Sir Peter Wright, aiming to build on its classical traditions, to expand the company's repertoire and to reach out to new and more diverse audiences. Following David Bintley's legacy, it seems Birmingham Royal Ballet intends to remain a major force for classical ballet in the UK and beyond.
Born in Havana, the youngest of eleven children in an impoverished family, Acosta went on to train at the National Ballet School of Cuba, winning the prestigious Prix de Lausanne at the age of 16, before enjoying a celebrated thirty-year career in dance with many of the world's leading ballet companies. He was a Principal with the Royal Ballet for 17 years and danced all the major classical, and many contemporary roles. Carlos retired from classical ballet in 2016, after 28 years, having performed almost every classical role from Spartacus to Romeo.
Since retiring from the Royal Ballet he has founded his Cuban dance company Acosta Danza and established his own dance academy in Havana which opened its doors to its first students in September 2017. His 2007 autobiography No Way Home told the extraordinary story of his progress from the poorest of beginnings in Cuba to world ballet star and became a UK bestseller. His many awards include an Olivier Award for Outstanding Achievement in Dance, a Prix Benois de la Danse, an Outstanding Achievement Award at the Critics' Circle National Dance Awards and the Queen Elizabeth II Coronation Award from the Royal Academy of Dance.