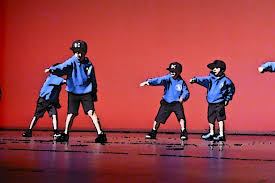 Last year The Place undertook a survey to gain a better understanding of why there were fewer boys in the recreational dance classes it runs, and the reasons behind the gender imbalance across its activities.
The results of the survey, which included males of all ages, presented a common theme which was the shared perception that 'they were no good at dance'. Over 46% said they don't dance because they don't think they can dance well. The second highest response was to do with peer pressure, with 23% saying that their friends don't do it so they don't. One respondent talked about classes, and said that if there were 'no men there, it would be embarrassing'. Another young person who has tried dancing said 'it can be very dispiriting to be the only guy in the class'. The survey included interviews with three boys who are already taking classes at The Place to find out about their experiences.
To help address these concerns, some arts organisations are providing inspiring projects to get boys involved in dancing around the country. These include the Royal Academy of Dance, Warwick Arts Centre, Centre for Advanced Training In Dance, and The Place. Bram, aged 12 and a member of Fuel, The Place's dance company for 11-15 year old boys, was interviewed as part of the survey. He said he enjoys dancing, because "When I dance I get so excited and creative. I forget about all the stress and all the anxieties, the annoying things like deadlines, and it's just about having fun with your friends."
Alongside these projects, it is clear there has been a higher profile for dance in mainstream media with talent and reality shows over the past two years including Britain's Got Talent, BBC Young Dancer and Strictly Come Dancing. Programmes like these present boys and men of all abilities and backgrounds enjoying learning to dance. There are also opportunities to see live dance from companies such as BalletBoyz, Diversity, Les Ballets Trockadero de Monte Carlo and 2FacedDance who regularly tour the UK.
It is hoped that more boys can be encouraged to get involved in dance, to help them to develop the personal and social skills dance provides that will bring lifelong benefit.