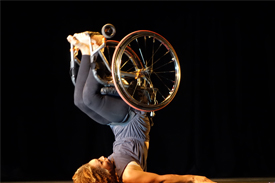 Candoco Dance Company became the first contemporary dance company to perform on Strictly Come Dancing last month when it opened the results show on 25 November. The renowned contemporary dance company of disabled and non-disabled dancers performed a brand new piece choreographed by former Strictly judge Arlene Phillips to David Bowie's Life on Mars, alongside thirteen of the BBC programme's professional dancers.
Arlene Phillips has previously collaborated with Candoco on the outdoor dance performance You and I Know, and was instantly intrigued when she was asked by Candoco if she would be interested in working with the company on a project linking them with some of the series-regular professionals in a unique piece. Now the series has finished and the glitter ball trophy has been awarded, it is easier to look back at this performance, uniting two groups of dancers that come from very different dance disciplines.
Candoco dancers are trained in a contemporary style, whereas the Strictly professionals are trained in Latin and Ballroom. While the programme has seen paralympians compete to be crowned the winners, such as this year's Lauren, the series is mostly filled with able bodied dancers. For Arlene Phillips however, she chose David Bowie's Life on Mars for its mystery, both musically and lyrically, with her vision drawing the dancers together by a strange force from across the universe, both disabled and non-disabled bodies.
Established in 1991 by Celeste Dandeker-Arnold OBE and Adam Benjamin, Candoco Dance Company positions itself at the forefront of current and future thinking around contemporary dance and disability-inclusion, and holds an internationally-recognised reputation as a world leader in inclusive practice as best practice.
The company's Artistic Co-Directors, Ben Wright and Charlotte Darbyshire, joined the company earlier this year, taking over from Stine Nilsen and Pedro Machado who stepped down after a decade. Charlotte Darbyshire was herself a founder member of Candoco and, together, the new artistic co-directors remain curious about what dance can be, who gets to do it, where it takes place and why it matters.