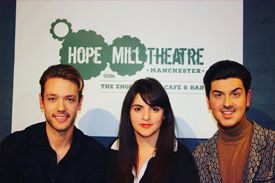 Katy Lipson, Joseph Houston and William Whelton recently launched Hope Aria Academy, a new part-time drama course situated in Manchester: founders Katy, Joseph and William recognised a need for more opportunities for Northern-based performers to specialise in musical theatre. All three founders have backgrounds in musical theatre training and are currently full-time producers and theatre owners, actively working in the industry.
Having produced 10 musicals in the North West, the trio has seen the demand for more opportunities for specialist training in musical theatre. Hope Aria Academy is therefore filling a gap within the musical theatre training available in the area. With so much of the current focus being on London, the team hopes to offer a boutique, personable and professional course which allows performers to strengthen skills, learn new ones and challenge themselves whilst staying close to home. They will also provide guidance and mentorship for students as they enter or re-enter the musical theatre industry.
The course is tailored for individuals who have already trained professionally and are looking for a fresh approach to training within a smaller, more focused atmosphere; for individuals who are not yet ready to make the leap to full-time drama training and require further tuition; and for mature students who have experience in musical theatre and want to re-train to return to the industry. Students will also be introduced to the wider creative industry, with regular guest teachers in all three disciplines of acting, singing and dance, and opportunities for casting directors and agents to come and view a final term piece.
The first 12-week course will run from 22 April to 19 July 2019 (half term 27-31 May) on Monday, Tuesday and Wednesday evenings between 6.30pm and 9.30pm at Hope Aria House, Manchester, and applications are now open. One scholarship place for the course will be available, for which details will be released in the New Year. Later in 2019, the plan is to offer a full-time course as well.
The core faculty will comprise of Katy Lipson, Joseph Houston and William Whelton, who were together ranked in The Stage's Top 100 Most Influential People in Theatre. In 2016, Joseph and William joined forces with Katy of Aria Entertainment to spearhead Hope Mill Theatre as a home for new musicals, musical premieres and musical revivals.