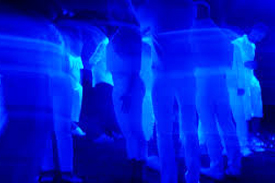 An exciting interactive work by Alexander Whitley Dance Company came to London last week – for the first time – as part of the Digital Weekender at Watermans in Brentford on 10 and 11 November.
Whitley is renowned for his groundbreaking use of interactive technology to redefine the parameters of choreography, demonstrating this most recently through his work 8 Minutes, and showcasing a huge digital light display as part of the performance. His work often investigates the impact of technology, such as artificial intelligence, on contemporary human experience, and then transferring that to audiences.
Strange Stranger is therefore a performance and interactive light installation that investigates the idea of presence and the right to be forgotten in the digital age, linking back to the work all organisations addressed as part of GDPR earlier this year. For this new work, Whitley collaborated with Dutch light installation artists Children of the Light, British composer Beatrice Dillon and Italian creative technologists, Luca Biada and Michele Panegrossi of Studio FENYCE. Commissioned by Sadler's Wells and York Mediale, Strange Stranger premiered at York Mediale 2018.
Drawing on the notion of a 'data shadow' – the digital profile formed from the traces of information we unintentionally leave behind through our routine interaction with technology – Strange Stranger explores the paradox of how, the more information we have access to, the stranger and more incomprehensible the world seems. Alexander's work is intelligent, and here proves itself to be so.
Within a grid of three-metre high towers, structures appear, transform and vanish into the shadows as light animates the live interactive space. Data from activity inside the installation is captured by motion sensors, leaving traces in the light and altering the subsequent character of the space. A performance by four dancers provides the initial data for the installation, placing a 'shadow' within the space for the public to encounter as they explore its dynamic forms.