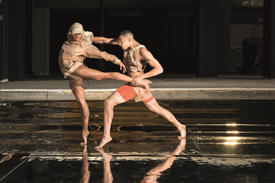 Rambert2, the brand new ensemble from Rambert, launches its inaugural UK tour this autumn. The company will perform a programme of dance showcasing the most exhilarating and fierce choreography around today.
Rambert2 will premiere a new dance work by Rambert's Guest Artistic Director, Benoit Swan Pouffer, with original music by Brixton-born electronic and dancehall artist GAIKA and designs by London-based fashion duo COTTWEILER. The triple bill will also include two works that launched the international careers of their choreographers: E2 7SD, a duet by Sydney Dance Company artistic director and former Rambert dancer Rafael Bonachela, and Killer Pig by Israeli dance star Sharon Eyal, a group work showcasing her intense and distinctive movement style.
In London and Bath, both Rambert's ensembles perform in the same evening, with Rambert presenting the final performances of Ghost Dances, one of the most celebrated contemporary dance pieces of its generation and an evocative tribute to the victims of political oppression in South America.
Rambert2 is a collaboration between Rambert and Rambert School, bringing together dancers with outstanding ability, creativity and individuality to form a second Rambert ensemble. Rambert2 will tour venues around the UK as well as creating and delivering unique education and learning experiences for schools and communities.
Following a national and international call for applications in November 2017, auditions to Rambert2 took place in February 2018. From over 800 applications, 13 dancers successfully completed five audition rounds; the final 13 come from six different countries in Asia, the Americas and Europe, with nine having trained in UK dance institutions.
Rambert is Britain's national dance company. It produces new and historic dance works for audiences throughout the UK and around the world, accompanied by live music. Rambert works in partnership with local authorities, schools, hospitals and health care providers, social enterprises, charities, businesses and arts organisations, to extend its reach to people of all ages, backgrounds and circumstances.