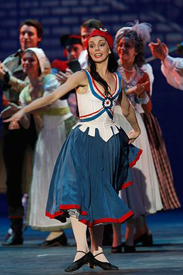 This Christmas, the internationally acclaimed Royal Ballet Principal, Natalia Osipova, will lead the world premiere of The Mother, a new piece of dance based on Hans Christian Andersen's The Story of the Mother. The Mother is a compelling, instinctive tale about motherhood. With an original score by Frank Moon and Dave Price, this avant-garde production conjures a dangerous, kaleidoscopic world, combining narrative dance and drama. 
Staged only for two nights at Pleasance at EICC in Edinburgh, this production offers a chance to see the world-renowned Osipova as she performs alongside Jonathan Goddard, winner of the Critics' Circle National Dance Award for Best Male Dancer. According to The Telegraph, Osipova is one of the twelve greatest ballerinas of all time. She takes the lead alongside the multi award-winning Goddard, and their impeccable technique and unique dramatic presence is harnessed by director and choreographer Arthur Pita, whose credits include the five star critically acclaimed The Metamorphosis, The Little Match Girl and Salome.
As a young single mother sets out to save her child, she must face impossible trials and cross the line between dreams, reality and life and death itself. Will she succumb to the forces of evil, or will the power of motherhood prevail? Natalia Osipova will also star in a short film, The Mother, directed by Emmanuel G. Cuesta, which will be created and released this autumn.
The Mother is presented by London-based company Bird&Carrot Productions, founded by Alexandrina Markvo (previous projects include: Brodsky/Baryshnikov, starring legendary dancer Mikhail Baryshnikov; Inside Pussy Riot, an immersive theatre piece at Saatchi Gallery and Teodor Currentzis & Musica Aeterna at Cadogan Hall). Bird&Carrot Productions is an international creative force presenting and producing new theatre, dance, music and visual art events. Bird&Carrot Productions supports the work of the most influential leading artists and intellectuals, as well as those just starting out on their creative journeys.
This adaptation of The Mother runs from 21-22 December.