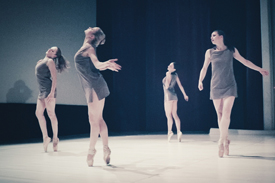 DANSATHON, a dance and technology hackathon to explore future innovations in dance, will take place in London, Liège and Lyon this September created by the BNP Paribas Foundation in partnership with Maison de la Danse in Lyon, Sadler's Wells and the Théâtre de Liège.
Coinciding with Lyon International Dance Biennale, during 72 hours from 28 – 30 September, five interdisciplinary teams in each of the three cities will combine dance and new technologies such as motion capture and AR/VR to explore new ways to create, perform and share dance with a diverse audience. Teams are provided with space, relevant technology and support from coaches and mentors, to test possibilities and produce a prototype, exploring questions such as 'how can we make dance more viral and accessible?' and 'how can digital dance cross social, physical and cultural boundaries?'
At the end of the weekend a jury will evaluate the projects based on what has been created. In each city, the best project will be rewarded with a fellowship of 10,000 euros from BNP Paribas Foundation and will benefit from the support of Sadler's Wells, Maison de la Danse de Lyon, and Théâtre de Liège to continue their creation.
In London, the coaches are artist-curator, researcher and director Ghislaine Boddington, a specialist in body responsive technologies and immersion experiences; designer, maker and coder Ling Tan; software engineer turned neuroscientist Gonçalo Lopez; senior designer of wearable technology Audrey Gaulard; creative technologist Nikolaos Chandolias; and poet and dance writer Karthika Naïr.
The jury in London is comprised of Sadler's Wells Artistic Director and Chief Executive Alistair Spalding; Sadler's Wells Associate Artist Wayne McGregor; BNP Paribas Foundation supported artists Honji Wang and Sébastien Ramirez; writer and speaker on digital innovation in the arts and cultural sector Bhavani Esapathi; UX (User Experience) and service designer and founder of Afrotech Fest Florence Okoye; theatre writer Lyn Gardner; Chaniya-Rose Manning-Onolaja, a member of Legacy Youth Voice, helping to shape the future of the Queen Elizabeth Olympic Park and create opportunities for young east Londoners; and Jane Ayaduray, Head of Diversity and Inclusion, BNP Paribas UK.
The 35 London participants were selected from 168 applicants after an open call, with equal numbers having expertise in dance, choreography, creative technology, design, physical object making, and media and communication.