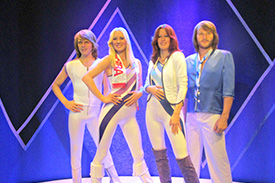 Executive producer Björn Ulvaeus and producer Ingrid Sutej have announced that MAMMA MIA! THE PARTY, an immersive theatrical and dining experience launched in Stockholm, will take up residency in a specially-adapted venue within London's The O2. The London production of MAMMA MIA! THE PARTY is set to open in late spring 2019, with tickets going on sale this autumn. MAMMA MIA! THE PARTY opened in January 2016, and it is now in its third sold-out year.
Led by Steve Tompkins of architects Haworth Tompkins, work has begun on transforming one of the venues within The O2 into Nikos' Taverna, and guests will feel as if they're right in the heart of a Greek island paradise, sitting around tables in the taverna's courtyard complete with a fountain, amongst olive trees and bougainvillea. While the story of Nikos and his family plays out in front of them, an audience of around 500 people will be able to eat Mediterranean food, drink, and even have the opportunity to dance along to ABBA songs.
MAMMA MIA! THE PARTY is an immersive entertainment and dinner experience produced by Ulvaeus, an original member of the iconic Swedish pop group ABBA, alongside Ingrid Sutej, who has produced a variety of successful live music and entertainment productions across the UK and Europe. The first production of MAMMA MIA! THE PARTY was attended by all four members of ABBA.
MAMMA MIA! THE PARTY is the perfect opportunity for fans to fully immerse themselves in the party of MAMMA MIA! the musical, literally able to journey to the Greek island which is featured in the opening of MAMMA MIA! the movie. Full of singing, dancing and fun, this is a night out for everyone as they extend their experience of the pop group and the musical productions.