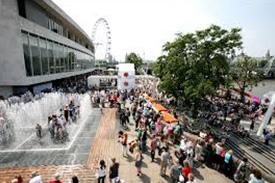 More fantastic dance is heading for the Southbank Centre this Autumn.
Just playing was Scottish Dance Theatre's Velvet Petal, an exploration of the transformative power of beauty, created from whatever is on the bedroom floor, in its London premiere. An intimate dance work inspired by the life-cycle of the Monarch butterfly and Robert Mapplethorpe's polaroids, the piece was accompanied by a fresh dance-punk score by Torben Lars Sylvest including music by LCD Soundsystem, Spoek Mathambo and Four Tet, with a live performance by Abul Mogard.
Next up is Sidi Larbi Cherkaoui with Play, a cross-cultural dance piece that juggles between theatre, chess and the games people play in life and in love. Belgian choreographer Sidi Larbi Cherkaoui partners with Indian-born dancer Shantala Shivalingappa to explore Kuchipudi, a South East Indian dance. The two dancers use these specifics of their culture to play their way into understanding and accepting their differences. Play is inspired by, and dedicated to, the late Pina Bausch who encouraged Cherkaoui and Shivalingappa to work together.
British Paraorchestra will present the London premiere of The Nature of Why, a live music and dance performance inspired by Richard Feynman. It combines a live cinematic score by Goldfrapp's Will Gregory, musicians from British Orchestra ensemble and four dancers erasing the boundaries between audience, music and movement choreographed by Caroline Bowditch. This event, which celebrates the work of disabled artists, is Audio Described, British Sign Language interpreted and Speech-to-Text transcribed. A touch tour will be available.
Finally, the deaf and disabled performers of The Unlimited House of Krip present an evening of free vogue ball shows, open workshops and screenings in The Clore Ballroom at Southbank Centre's Royal Festival Hall. Commissioned and supported by the Unlimited programme, this work celebrates the work of disabled artists, with funding from Arts Council England.