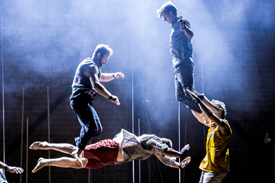 Southbank Centre is the UK's largest arts centre, sitting in the midst of London's most vibrant cultural quarter on the South Bank of the Thames. The site has an extraordinary creative and architectural history stretching back to the 1951 Festival of Britain. Southbank Centre is home to the Royal Festival Hall, Queen Elizabeth Hall, Purcell Room and Hayward Gallery as well as The National Poetry Library and the Arts Council Collection, and in August will be presenting intriguing dance content.

Running from Tuesday 14 – Sunday 19 August, Gravity & Other Myths will be a high-octane exploration of the limits of human strength. As a circus company it will journey to the edges of physical, cerebral and collective brawn in this UK premiere. Gravity & Other Myths is full of Australia's acrobatic sensations, gaining acclaim with a series of accomplished ensemble works. The piece is full of 'do it yourself' aesthetic, as well as lots of trickery and distraction: this is circus that leaves no viewer unmoved. Backbone is the culmination of all that's gone before: a celebration of human connectedness and the meaning of strength.
Scottish Dance Theatre will then explore the transformative power of beauty with Velvet Petal on Friday 31 August and Saturday 1 September. As its London premiere, this intimate dance work is inspired by the life-cycle of the Monarch butterfly and Robert Mapplethorpe's polaroids. The piece is accompanied with a fresh dance-punk score by Torben Lars Sylvest including music by LCD Soundsystem, Spoek Mathambo, and Four Tet, with a live performance by Abul Mogard.
Audiences are in for a treat this month with lots of performances aside from dance on offer too. The 17 acre Southbank Centre site is full of artistic opportunities for audiences to experience and engage with art within a variety of mediums.