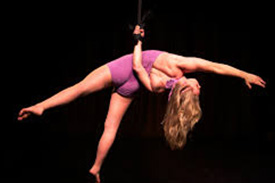 The internationally renowned touring dance-circus company, Motionhouse, has joined British furniture manufacturer Vitsoe in its new home in Royal Leamington Spa, bringing together the arts and manufacturing in one inspirational space. The pair wanted to create a space that was adaptable and enabled the exploration of cultural interactions and connections. The collaboration therefore brings together creative minds from different disciplines, offering new perspectives that enrich working lives.
The co-habitation was conceived by Vitsoe and Motionhouse to create a vibrant and like-minded working community. Vitsoe has a long history of collaborating with artists, designers and educational institutions. Motionhouse was a natural fit, both for reasons of compatible culture and its close integration to the local community. The initiative has received funding from Arts Council England, which has praised the innovative and creative nature of the partnership.
This year marks the 30th anniversary of Motionhouse. In the past three decades Motionhouse has made a significant contribution to dance in the UK, creating an exciting range of work for theatres and performance outdoors, reaching audiences up and down the UK, in Europe and internationally with its renowned dance-circus style. Last year alone nearly 80,000 people saw Motionhouse perform or took part in one of its activities. From inspiring theatre productions incorporating digital technology, to
free, outdoor performance and large-scale spectacle,
Vitsoe has always collaborated with the arts. As early as the 1960s, the company engaged creative thinkers and initiated cultural happenings. More recently, Vitsoe has collaborated with Central St Martins for a third year running to exhibit the work of students and staff of the BA Jewellery Design Course, as part of Munich Jewellery Week. Vitsoe's furniture designs are also collected for their classic qualities for collections in institutions such as the Victoria & Albert Museum, Museum of Applied Art, Frankfurt, Pinakothek der Moderne, Munich and MoMA in New York.