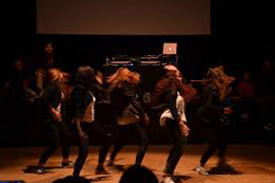 The National Institute of Dance Medicine and Science has launched its new much-anticipated dance fitness screening centre in Edinburgh. This coincides with the launch of three new health packages for dancers, working in partnership with One Dance UK.
Renowned for its hugely successful screening centre services, NIDMS welcomes new screening centre partners the University of Edinburgh and Taylor physiotherapy. As the new Scottish hub for the organisation, the University complements the existing NIDMS screening centres in the Midlands (the Jerwood Centre for the Prevention and Treatment of Injuries and University of Wolverhampton) and London (Trinity Laban Conservatoire of Music and Dance).
NIDMS is continually working to ensure dancers have access to affordable, timely and specialist healthcare to reduce the risk of injury and to be able to seek help easily if an injury should occur. Part of NIDMS' commitment to this aim is the provision of the Performance Optimisation Package (POP), launched in 2014 as an add-on to membership with One Dance UK, the national sector support organisation for dance. Following feedback from dancers, companies and schools who have been utilising the package since then, NIDMS has further developed the package to offer a variety of options for every budget and need.
Through shared expertise and a network of multidisciplinary partners, NIDMS works to provide the dance sector with access to high quality, affordable, dance-specific healthcare and dance science support services in private practice and the NHS. These services are underpinned by dance medicine and science research, including that developed and implemented by NIDMS partners. Best practice, information and resources are disseminated to the wider dance and health community through educational workshops, conferences and publications.
NIDMS partners include One Dance UK, Trinity Laban Conservatoire of Music and Dance, University of Wolverhampton, University of Birmingham, Birmingham Royal Ballet, The Royal Ballet, and the Royal National Orthopaedic Hospital.