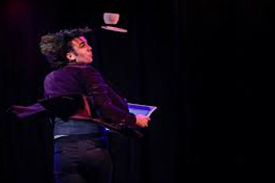 Rounding off a hugely successful global tour, including a smash hit Edinburgh Fringe run, critically acclaimed Circolombia comes to London to headline the Underbelly Southbank Festival from 24 May-14 July. Audiences will experience the power of fourteen performers deliver some of the most technically challenging circus skills including the Russian Bar, and 'teeth hang', the jaw dropping aerial act for the first time as part of the festival. Paired with original music, Circolombia delivers world-class, gravity defying performances to a beat-heavy soundscape.
The troupe brings their unique performance style, inspired by Colombia's diverse communities, to every spectacular performance. Circolombia captures the relentless pace of life and Colombian energy, and is best described as a 'circo-concierto' (circus concert), due to the integral role music plays throughout the show. With circus artists singing and rapping live to an original score whilst performing acrobatic feats, music is essential to the show. This combination of a powerful soundtrack with raw and collective energy on stage creates an authenticity that is rare in contemporary circus.
Circolombia Ltd is a live entertainment and production company based in London, founded in 2006, producing high-energy modern circus shows with a distinctive Latin feel. Since 2011, the company's most significant shows – URBAN and ACÉLÉRÉ – have toured around the world to international festivals and major venues. Being the foremost contemporary circus troupe from Colombia, there is an adventurous mix of professional circus and a typical Colombian environment, where singing and dancing are the safety valves of everyday life.
Circolombia also gives artists opportunities to invest in their future. Uniting youth and celebrating their achievements in innovative productions is intrinsic to Circolombia, as is helping young people start their own journeys of self-discovery and development. Felicity Simpson (Circolombia Director and Creative Producer) began her career as a circus performer in England and Europe. She spent the next 20 years using circus to pioneer new innovations in business and education. Felicity co-founded Circo Para Todos, the first professional circus school in the world dedicated to underprivileged children, which became Colombia's National Circus School.