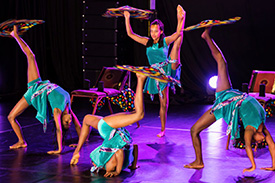 Following a smash hit run at the Edinburgh Festival Fringe 2017, and as seen on ITV's Royal Variety Performance, Circus Abyssinia makes its London premiere at Underbelly Festival for six weeks only. As circus marks its 250th anniversary this year, Circus Abyssinia: Ethiopian Dreams is a jubilant celebration of circus for audiences of all ages, entertaining them through the infectious energy and spirit of its cast.
Circus Abyssinia: Ethiopian Dreams is a mix of stunts, circus skills and adventure. The show dramatises in surreal, often comic and mostly wordless ways, the magical true tale of two Ethiopian brothers, Bibi and Bichu, who dreamed of joining the circus, and stages the journey of how their dream came true. Performed from the perspective of the young brothers, through the universal language of circus, the show mixes autobiographical and fictional narratives to tell how Bibi and Bichu became world-class jugglers.
Underbelly Festival audiences will be plunged into a world of daredevil wonders from 6 April to 20 May, as they encounter a host of other circus dreamers: dancing, contorting, gravity-defying figures, all weaving tales of their own. The Circus Abyssinia Troupe, a team of dazzling talented acrobats from Addis Ababa in Ethiopia, has a reputation for bold acrobatic displays.
The Troupe celebrates the birth of a new Ethiopian tradition through a breath-taking range of circus skills including; human juggling, hand-vaulting, contortion, cloth spinning, Cyr Wheel, clowning and the eight strong double Chinese Pole act. Fusing theatrical storytelling with astonishing stunts, the show combines the arts and innovations of contemporary circus with Ethiopia's artistic heritage to create one of the world's first full-blown Ethiopian circuses. Surrealist and joy-driven, it is accompanied by a soundscape that draws on Ethiopia's musical past and present.
Circus Abyssinia: Ethiopian Dreams is a retelling of how the cast dreamed of the circus in a country without one, and created a new Ethiopian tradition.