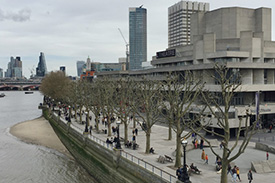 Southbank Centre has announced its new associate companies, UK premieres, and international work as part of 2018/19 performance and dance programme. It also celebrates the reopening of its restored and redesigned cultural venues, the Queen Elizabeth Hall and Purcell Room, and welcomes new and returning companies to its stages.
Two world-renowned companies, performance ensemble Forced Entertainment and contemporary dance company Shobana Jeyasingh Dance, are announced as Southbank Centre's new associate companies, working with the multi arts organisation to research, develop and premiere work. They will sit side by side with ZooNation Youth Company.
Shobana Jeyasingh Dance will participate in a weekend of free performances and activities in April, having first performed at Southbank Centre in 1989. This summer, the company will also begin a research and development project in the Royal Festival Hall's Plant Room space, joined by BBC Young Dancer of the Year 2015 finalist Vidya Patel. ZooNation Youth Company returns to the Queen Elizabeth Hall to join the weekend celebrations with an open Hip Hop workshop followed by a freestyle jam. The company will then once again present a collective of young companies in their summer showcase in July.
Additional highlights of the 2018/19 programme include:
The award-winning puppeteers from War Horse present the European premiere of the spectacular Circus 1903. Fresh from the Paris Theatre in Las Vegas, this turn of the century circus includes stunningly created, larger-than-life puppet elephants alongside a huge cast of the most unique, amazing and dangerous circus acts.
Beijing-based choreographer Wen Hui returns to the UK for her first performance in ten years with the UK premiere of dance docu-drama Red – part of Dance Umbrella 2018 celebrating its 40th year.
London premiere of Scottish Dance Theatre's intimate dance work Velvet Petal, with a rare live performance by musical artist Abul Mogard (31 August & 1 September 2018, Purcell Room).