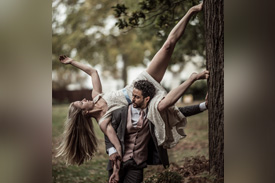 Under the artistic direction of Didy Veldman and commissioned by DanceEast, Umanoove presents The Knot: a brand new dance production for 2018. It will be performed at DanceEast, Ipswich and G Live, Guildford in February 2018, followed by an Autumn Tour, examining the social and personal significance of marriage in contemporary Western society. DanceEast will host the piece's world premiere, where Veldman launched her company Umanoove in 2016.
Dutch-born choreographer Didy Veldman is a former Rambert dancer, who left the company in 2000 to pursue a choreographic career. In 17 years she has become a highly sought after choreographer both nationally and internationally, and has created work for Les Grands Ballets Canadiens de Montréal, Cedarlake (New York), Cullberg Ballet (Sweden), Introdans (Netherlands), Gothenburg Ballet, Iceland Dance Company and the Royal New Zealand Ballet. In the UK, Veldman has been commissioned by Rambert, Northern Ballet and Scottish Dance Theatre, and in 2019 she will create a new work for Birmingham Royal Ballet with composer Gabriel Prokofiev.
The Knot follows Veldman's critically acclaimed The Happiness Project that launched her own company Umanoove. The highly anticipated work invites the audience to a wedding party. Performers take on the roles of the bride, groom, best man and bridesmaids as the work unfolds, and explores familiar scenes of tying the knot – the authenticity of the vows, the formidable wedding speeches and the photography. The Knot examines what a wedding means and how it feels. The role of ritual, doubt, religion and gender will be scrutinised and the romanticised ideas of Walt Disney will challenge our perceptions of matrimony.
Dancers Dane Hurst (Rambert, National Dance Company of Wales, Phoenix Dance Theatre and Company Wayne McGregor) and Mathieu Geffré (Dansgroep Amsterdam, Noord Nederlandse Dans, National Dance Company Wales, Theo Clinkard) return to Umanoove, having both performed in The Happiness Project. For The Knot they will be joined by Oihana Vesga Bujan (Richard Alston Dance Company), Oliver Chapman (Henri Oguike Dance, National Dance Company of Wales, Icon Dance) and Sara Harton (erSa Danse, Les 7 doigts de la main, PPS Danse, ezdanza), and Angela Venturini (a postgraduate student at The Place) and Jacob Lang (Rambert School).