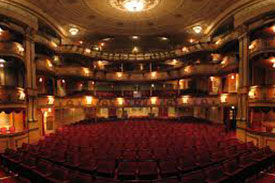 Chichester Festival Theatre launched its Buddies scheme earlier this year, to open its programme to a wider audience who feel unable to attend the venue alone. CFT Buddies assist patrons in booking and collecting tickets. They also meet them on arrival at the theatre, guide them to their seats and sit with them through the performance; help buy any refreshments and locate washroom facilities, and stay with them until the patron is safely on their way home.
The aim of the scheme is to ensure the individual has an enjoyable time at the theatre, with potential users of the scheme including elderly and socially isolated patrons; those with learning difficulties or who are on the autistic spectrum; and individuals with physical disabilities or with eyesight and hearing difficulties. The scheme helps audiences attend and enjoy theatrical productions, focusing on nurturing its audiences rather than constantly striving to attract and connect with new audiences.
The free scheme was piloted at the theatre's Relaxed Performance of Fiddler on the Roof in July. The Buddies now welcome audiences into the Theatre and position themselves around the auditorium and in the chill-out area to help out where needed. Feedback on the scheme has been positive and encouraging; the next step is to launch the scheme for regular performances in the Festival Theatre on a one-to-one basis.
The theatre also plans to produce a guide to make it clear exactly what a Buddy's role is: they are not a replacement for a carer in terms of medical or personal needs but are there to assist and provide companionship. This guide will be given to patrons and Buddies to manage expectations from both sides. The Buddying scheme is a way to open the whole theatre programme to a wider audience, becoming an important extension of its mission to welcome as wide and diverse an audience as possible.