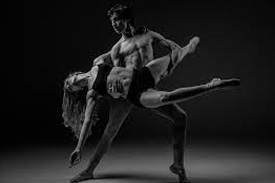 Ivan Putrov's new edition of Men in Motion, an exploration of the changing role of the male dancer over the last century, is back this November at the London Coliseum (for two performances only, on 22 and 23 November). Men in Motion pays homage to the great dancers and choreographers of the past and showcases some of the most exciting and diverse artists at work today. This year's cast includes Putrov, Matthew Ball, Edward Watson, Daniel Proietto and Irek Mukhamedov amongst others with new choreography.
With the accompaniment of a live orchestra, the evening includes creations by great choreographers from Mikhail Fokine to Russell Maliphant and a new piece created by Ludovic Ondiviela. Royal Ballet Principal Francesca Hayward, joins Men in Motion as the sole ballerina and partners Ivan Putrov in Fokine's 'Le Spectre de la Rose', made famous by Nijinsky. Through this production of Men in Motion, Putrov has rediscovered some groundbreaking pieces of the 20th century, bringing contemporary works to new audiences and commissioning new ballets from some of today's finest choreographers.
Matthew Ball will make his London Coliseum debut performing an extract from Christopher Bruce's 'Swansong'. The new production also brings Giovanni Princic of the Dutch National Ballet, performing 'Ballet 101' by Eric Gauthier, and Mathieu Ganio, Etoile of the Paris Opera Ballet, will be dancing Prince's solo from Nureyev's Swan Lake and 'Clair de Lune' by Alastair Marriott, with Philip Treacy creating the design especially for the show. In addition, Anton Lukovkin, formerly English National Ballet, will dance an extract from 'Petrushka'. Irek Mukhamedov will return to the stage to perform a new work, specifically created by Arthur Pita.
To complete the performance Marian Walter, Principal of the Berlin State Ballet will dance Ludovic Ondiviela's 'Berlin' and Roland Petit's Pas de deux from 'Proust ou les Intermittences du coeur' with Timofej Andrijashenko of La Scala Milan, who will dance Prince's Act Two extract from Nureyev's 'Sleeping Beauty'.