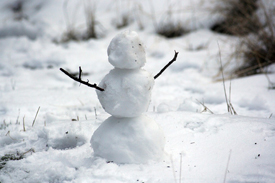 The Snowman has transported children into the wintery wonderland of a boy and his magical snowman for a record-breaking 20 consecutive years in London's West End, at The Peacock theatre. With a mix of dancing and live music – including Walking in the Air – the pair embark on a starry-skied adventure to the North Pole, where they meet dancing penguins, reindeer, Father Christmas, an Ice Princess, and escape the clutches of Jack Frost.
Based on the magical book by Raymond Briggs and the film directed by Dianne Jackson, The Snowman is a much-loved festive tradition of storytelling, spectacle and magic. This year The Snowman celebrates 20 years in London's West End, continuing to appeal to new generations of audiences. Birmingham Repertory Theatre first staged the production back in 1993, and it will run this year at The Peacock from Thursday 23 November – Sunday 31 December.
The show is a great introduction for young children to the world of dance and theatre. The enchanting show tells the story of a young boy's adventures when his snowman miraculously comes to life on Christmas Eve. Featuring an array of colourful characters including dancing penguins, magical reindeer, a beautiful snow princess, her wicked beau Jack Frost and of course, Father Christmas himself, The Snowman is a Christmas treat for all the family and a perfect introduction to dance for the very young.
As well as the dates at The Peacock, The Snowman will tour around the UK this winter to the following venues: The Opera House, Manchester (8-12 November), Theatre Royal, Glasgow (15-19 November), The Mayflower Theatre, Southampton (10-14 January), Milton Keynes Theatre (17-20 January) and Theatre Royal, Brighton (24-28 January).