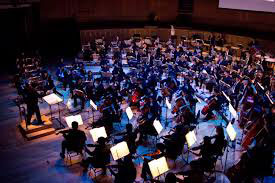 Earlier this summer it was revealed that the London Musical Theatre Orchestra is set to perform the iconic musical production Mack and Mabel as part of its new season. For musical theatre fans this will be a unique opportunity to hear the score performed by an orchestra dedicated to the musical theatre industry.
The London Musical Theatre Orchestra is the first professional orchestra dedicated to musical theatre. To rightly celebrate its second anniversary, it announced its new season of performances, which will include the orchestra reprising Alan Menken's A Christmas Carol after its concert last year. For Mack and Mabel, this is a major coup for musical theatre fans, allowing them to indulge in its music. Jerry Herman's musical ran in the West End in 1995 and includes the songs "I Won't Send Roses" and "Tap Your Troubles Away".
The new season for 2017 includes performances of Herman's Mack and Mabel at Hackney Empire on 23 September, and a reprise of A Christmas Carol at the Lyceum Theatre on 11 and 18 December. The orchestra performed Alan Menken's A Christmas Carol at the Lyceum last Christmas with a cast that featured Robert Lindsay, Carrie Hope Fletcher, Giovanna Fletcher, Hugh Maynard and Madalena Alberto, so a similar performance this year is highly anticipated.
The group was founded back in 2015, and has since performed public concerts of music from State Fair, A Christmas Carol and Honeymoon in Vegas, with stars including Samantha Barks, Emma Hatton and Celinde Schoenmaker. With high-profile performers joining the orchestra for previous performances, the same can be expected for this year for its second anniversary.
Tickets for Mack and Mabel and A Christmas Carol are now on sale, following a performance of Candide at Cadogan Hall starring Rob Houchen on 21 July.