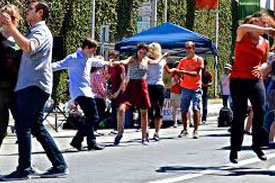 If August sees you wandering along Southbank, London, watch out for Britain's national dance company. From 18 – 20 August Rambert will take over the National Theatre's River Stage festival for a free weekend of choreography and dance and music performances.
Rambert's takeover weekend is part of a free outdoor season in front of the National Theatre, with events hosted every Friday, Saturday and Sunday from 28 July until 28 August. Other takeover weekends will include East London's The Glory, Manchester's HOME, acclaimed international arts festival WOMAD, and a weekend of music, dance, performance and outdoor cinema. An eclectic combination of dance, theatre, guest DJs, live music in the afternoon and late evening, family fun, and the very best live music acts – this is a free summer festival not to be missed.
The programme of Rambert events includes:
Music from A Linha Curva
Devised in São Paulo to celebrate Brazilian culture, A Linha Curva sees four percussionists share over 50 instruments. Rambert musicians have been touring around the UK to evoke samba, capoeira, and the sound of the beach at night.
Quicksilver
Quicksilver is Rambert's company for dancers aged 15 – 19. Led by Laura Harvey, the company is named after the Mercury Theatre (Rambert's original home in the 1920s) and the nickname of the company's founder, Marie Rambert.
New Creation – Patricia Okenwa
An extract of a work-in-progress from up-and-coming choreographer and former Rambert dancer Patricia Okenwa. The piece for two dancers is an exploration of motherhood, inspired by the Stabat Mater.
Yoga Class
Suitable for people wanting to increase strength, flexibility and stamina, this class is based in the Vinyasa flow style of Hatha yoga. Postures are sequenced together to create a fluid moving meditation.
Ghost Dances Workshop
Learn the iconic moves from Rambert's most famous work, Christopher Bruce's Ghost Dances. Taught by people who have danced the work, it is a chance for audiences of all abilities to inhabit this timeless evocation of South American culture.