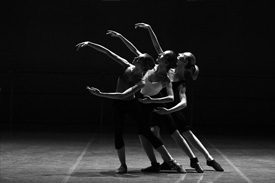 National Youth Dance Company, the country's flagship organisation for young dancers, has been performing Tarantiseismic around the country this summer, a new creation by the company's Guest Artistic Director Damien Jalet. Tarantiseismic sees Jalet present a unique piece of theatre which addresses themes of melancholia, ritual, control and abandon, and the company's 39 young dancers will tour to Plymouth, Newcastle, Leicester, Birmingham, Ipswich and Hull, as well as Latitude Festival.
Alongside the tour dates, Experience Workshops have been taking place across England, an opportunity to find out more about NYDC. Young dancers will take part in a company class, learn repertoire from NYDC productions and take part in creative tasks. Participants will also meet members of the current company, can ask questions and get advice on dance training. Experience Workshops are used as an opportunity to be considered for a place in the 2017-18 company and are open to dancers from all backgrounds and abilities, with experience in any dance style.
Now in its fifth year, NYDC has established a reputation for innovative, challenging and influential work, bringing together the brightest talent from across England, and immersing the members in the process of creating, performing and touring new work. NYDC has a track record of putting young people on paths to successful dance careers, with over 80% of all former NYDC dancers now either in further dance studies, in vocational training or working professionally.
Founded in 2012, NYDC is an exciting young company that creates and performs innovative and influential dance, drawing together some of the brightest young talent from across the country to work with Sadler's Wells' internationally renowned Associate Artists. Since NYDC's inception, 150 dancers have joined the company, working intensively with renowned dance artists as Guest Artistic Directors. The company has delivered 87 workshops in 32 different venues across 22 towns and cities, opening up its offering to even more young people.