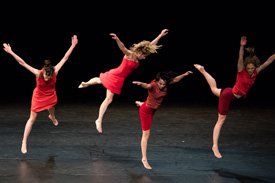 Tickets for Dance Umbrella, London's flagship festival of international dance, went on sale last week, with an exciting programme of dance and theatre scheduled for the autumn. Dance Umbrella will run from 11 – 28 October 2017, opening with Satchie Noro and Silvain Ohl's outdoor performance Origami on a 40ft shipping container at Battersea Power Station, as the UK premiere for the piece.
The Olivier Award-nominated Rocío Molina returns with Fallen From Heaven (Caída del Cielo), an explosive new work about womanhood, and guest programmer Freddie Opoku-Addaie will curate a festival-within-a-festival in Out Of The System; a vibrant night of international dance and music. Opoku-Addaie is an East London-born choreographer, performer, educator and Artistic Director. He has performed with celebrated international choreographers and companies including Company Wayne McGregor and Candoco Dance Company. His solo work, Show of Hands, premiered at Dance Umbrella 2013. As former Associate Artist of the Royal Opera House, his own performance works have been presented nationally and internationally including in Romania, Italy, India and Canada.
Leading choreographers Lucinda Childs, Maguy Marin and Anne Teresa de Keersmaeker will create three contrasting responses to Beethoven's Grande Fugue op. 133 for Lyon Opera Ballet's Trois Grandes Fugues. Liz Lerman will launch the new Dance Umbrella Lecture series with a discussion about how we watch dance and theatre differently, in amongst a multitude of extra events, talks and screenings throughout festival 2017. Lerman will also examine where we find strength and resonance as art-makers and art-watchers. Following the lecture, there will be an open Q&A led by award-winning choreographer and movement director Steven Hoggett.
This year's festival brings a wide roster of international artists to London, welcoming dance visionaries to the festival for the first time. Dance Umbrella is working with eight new venues for 2017 and expanding its reach even further in terms of contemporary dance choreography.