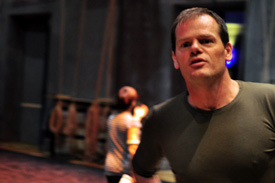 Born in Italy, Luca Silvestrini graduated in Performing Arts at Bologna University. In 1995, he completed his dance training at Trinity Laban, London. Since then Luca has worked with Catherine Seymour Dance Company, Lea Anderson and The Featherstonehaughs, and Aletta Collins, amongst others.
His choreography dates from 1997 when he co-founded Protein. As Artistic Director he is known for idiosyncratic dance theatre provoked by its deep connections with the everyday. His large-scale cross-generational and participatory events include the world record-breaking Big Dance Class, Eat London (which won a Visit London Gold Award) and Big World Dance 2010. He has created full-length productions in Valenciennes, Athens, Barcelona, London, Turin, Kinosaki (Japan) and Wadebridge (Cornwall); and has taught Protein's participatory work in Singapore, Spain, Italy and Canada.
In addition to his work for Protein, Luca has created work for the Royal Opera House, Transitions Dance Company, CandoCo, Bare Bones, Intoto, From Here To Maturity, Company of Elders at Sadler's Wells, Sankalpalm, HeadSpace Dance, Verge and Sardoville.
Sardoville's new production, A Matter of Impression, is made up of two parts. Attempting to Impress is choreographed by Luca Silvestrini, a show about a show. It is a response to the company's ongoing enquiry into their own relationship with dance and their places within the world of performance. The piece provides an insight into what it means to be a new company, what it takes to create a new production and the process of selling it to the dance world.
Have always wanted to choreograph for the stage?
As a child, I used to arrange and rearrange chess and other objects on the chess board, creating various situations. I guess this was my first attempt at staging stories and I was the only spectator of these free events!
Where did you train, and what was it like?
I trained in contemporary dance and choreography at the Laban Centre (now Trinity Laban). I was fortunate enough to meet great teachers, mentors and artists there, including acclaimed choreographer Lea Anderson, who soon after invited me to join her all male dance company, The Featherstonehaughs.
Describe a day in your life now.
If I am not creating/rehearsing or on tour, I tend to spend my time in the Protein's office with the rest of the team, planning, organising and evaluating the various company's activities.
What has been the defining moment of your career?
Taking my work internationally, and especially performing LOL (lots of love) in Ramallah, Palestine in 2012. I felt a unique vibe that night amongst the audience and I was incredibly proud that a visiting group from Syria, held at armed check point for hours by Israeli forces, managed to arrive and see part of the show.
What has been the most challenging?
Perhaps… a dancer's last-minute sickness and only few hours to go to rework the show with a dancer down.
What's the most rewarding thing about dance?
The audience, the participant and anyone who takes part.
Do you have any pre-show rituals, even if you're just watching your creations?
It may sound quite obvious, but I love having a good old group hug with the performers.
Who or what inspired you to create Attempting to Impress?
I see this short piece for Sardoville as part of an ongoing interest in the relationship between audience-performer. It was a pleasure working with this very talented, down to earth and generous trio of performers.
What is your advice to an aspiring choreographer?
Get creative with people who inspire you and who share your vision, without worrying about forming a company or selling a tour. Focus on the art form, experiment, find your voice before worrying about the rest.
What's next for you?
I am about to re-stage Border Tales, made in 2013, to take it to the Edinburgh Fringe before touring it in the Autumn. Also, I am just beginning to research material for Protein's new show for 2018, a family-friendly show based on The Little Prince.