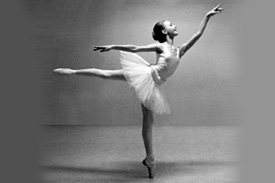 The Victorian Dance Festival, Australia's premier dance event, took place last month, and broke a World Record for the most dancers en pointe for one minute in one place. Over 4,000 dancers were in attendance for the weekend of dance classes from Australian and international dance leaders, and breaking the record were over 300 pointe dancers. The previous pointe record was set in Orlando, Florida on 22 May 2011, with 245 dancers. It was achieved by Dr. Phillips High School Dance Magnet, the Orlando Ballet and area dance schools (all USA) at the Orange County Convention Center in Orlando.
The Australian Ballet's longest serving ballerina, Lucinda Dunn, taught a free ballet class to all participating dancers before the record attempt, celebrating the art form of ballet in the heart of Australia's ballet capital – Melbourne. After the record breaking, dancers were able to join a free contemporary class from Kathryn McCormick, known for starring in the film Step Up Revolution and So You Think You Can Dance U.S.A.
Victorian Dance Festival, now in its fifth year, is Australia's most coveted dance event, bringing together dancers from all over Australia for non-competitive workshops, a performance gala, and dance teacher development day. Winner of the Australian Events Award 2016, the Victorian Dance Festival is sponsored by Energetiks dancewear and Dance Informa magazine. The Victorian Dance Festival was held at the Melbourne Town Hall from 18-19 March, and it is a yearly event.
Dance teachers who got involved with the Victorian Dance Festival this year included Kathryn McCormick of Step Up Revolution and So You Think You Can Dance fame, direct from Los Angeles, as well as international guests Tate McRae and Rhee Gold, along with renowned Australian choreographers and teachers like Lucinda Dunn, Yvette Lee, Daniel Jaber, James Barry, Lauren Seymour, and Paul Malek.