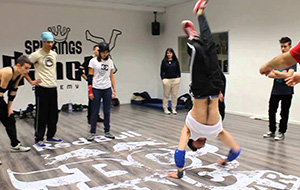 With the summer months well underway, many dance students are preparing to begin vocational or further dance training in September on a college or university programme. The years of study will pass by in a flash so it is essential to be ready to hit the ground running when beginning your studies, ready to get underway straight away.
There are many things prospective students can do to prepare for their studies, the first being making the most of your time off before the hard work begins. Having applied and auditioned for your place on the course, ensure you have a clear idea of the course structure and what you should expect to be doing when you arrive in the studio on your first day. There may be new information available to first year students that can be obtained, without the added focus on any of the other courses and institutions you may have applied to.
There may be preliminary reading you can start on in these summer months, such as background reading for the areas you will focus on, or general information on further education. Don't leave it too late to gather all the materials you will need to begin your course, such as buying mandatory reading materials, and making sure you read them! Keep abreast of information from your institution, such as deadlines for registering for classes and semesters that are essential to your learning.
If you will be learning about new dance techniques, you may wish to take a couple of classes in the style in order to have an idea of the demands of the technique. You will be able to find out lots about your new tutors from the college or university website, giving you an idea of their work and their focuses on dance. Keeping active this way will mean your body is ready to train in September and alternative movement or fitness classes will help in cross-training. Seeing unfamiliar dance will serve to inspire you ahead of joining your peers in the studio, helping to open your mind to new dance and choreography.