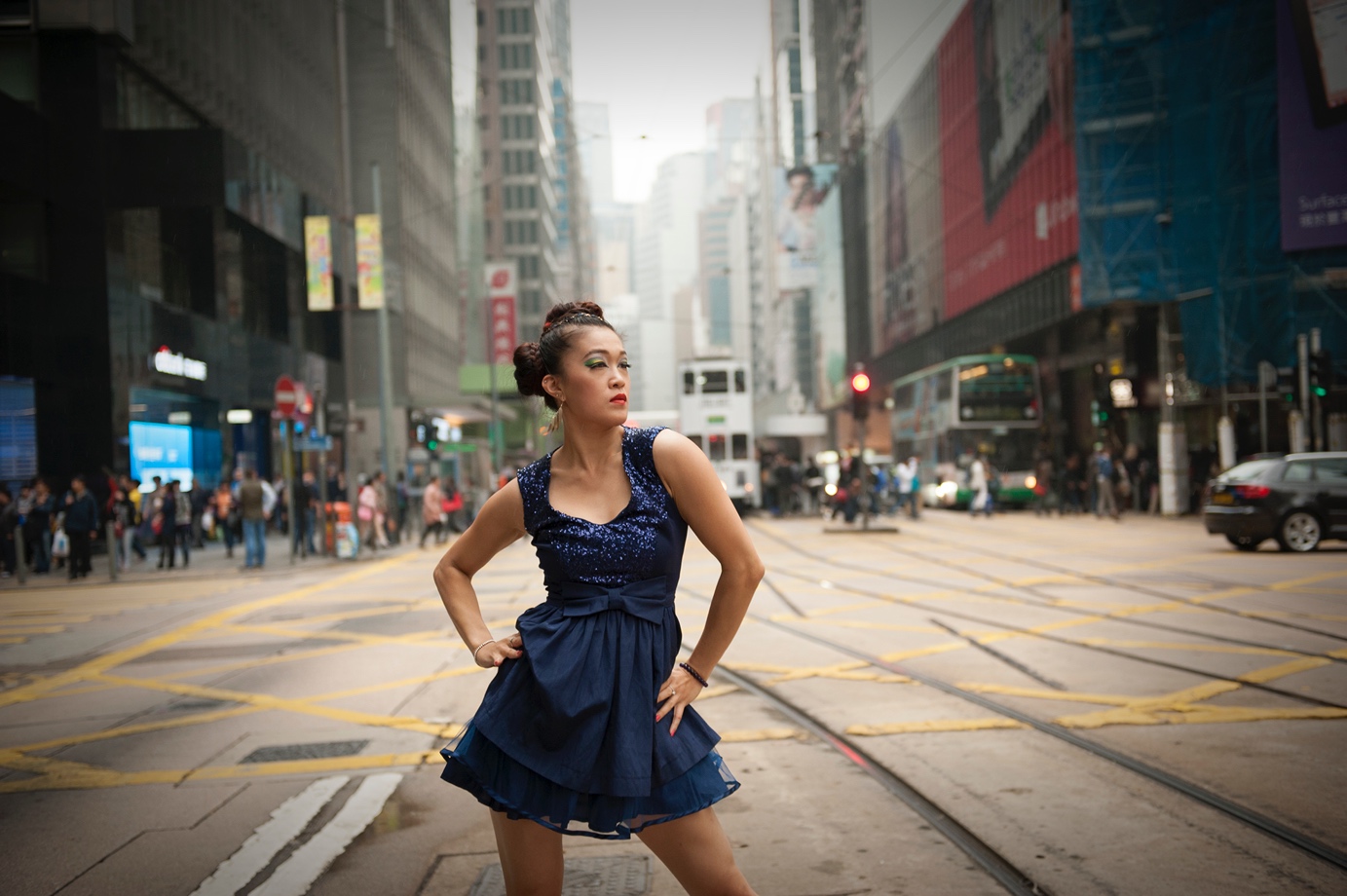 Julia graduated at the University of Surrey, Roehampton, in Drama, Theatre and Performance Studies & French in 2007, after travelling to France to study drama, dance (ballet/jazz) and languages. After graduating, she met her mentor Stuart Thomas, a contemporary dance teacher from the Alvin Ailey lineage, and she began to practice Graham, Horton and Jazz techniques whilst teaching street dance.
Having won her first free style hip-hop competition and a choreography competition in 2009, Cheng furthered her choreography experience as an Associate Artist of Step Out Arts in 2010. She was short-listed for the Blueprint Bursary Prize in 2010 and 2011, and was an Associate Artist of The Hat Factory Luton, promoting and performing dance in the South and East regions, pioneering the first battle events in the area.
As a founder of Kolesk Dance, Julia created performances in theatres across England to inspire young people with performance projects. In the pursuit of self-development, Julia visited New York, was awarded a scholarship to study physical theatre in Austria, and represented the UK in an International Final of 'Funkin Styles' in Germany. She also travelled to Israel to train in Gaga technique with Batsheva Dance Company.
Julia continues to compete, teach, perform and choreograph. In 2014 she founded an all-female collective, House Of Absolute, promoting dance projects within the commercial, theatre and underground scene. House of Absolute will appear as part of this year's Breakin' Convention.  Photo: Chris Tang
Have you always wanted to be on stage?
No, not always; I was extremely into sports at a young age, then throughout my teenage years I developed an interest in the arts. At first I was set on being a singer, then an actress and at the age of 18, after taking open street dance classes in Luton, I decided I was going to be a dancer.
Where did you train, and what was it like?
I graduated with a degree in Drama, Theatre and Performance Studies from Roehampton University in 2007; during this time I trained in ballet and jazz in Lyon, and an unconventional journey of dance training unfolded. An important part of my training has taken place in clubs, jams, battles and workshops in hip-hop, Waacking, popping and House.
At the age of 23, I started studying intensively under the guidance of Stuart Thomas who took me under his wing as his student, teaching me contemporary dance: Graham, Horton and jazz techniques. He was a really strict teacher but immensely generous. I felt I flourished under his mentorship and his teachings of philosophies of movement. He gave me belief and support which has ultimately formed my self-belief and perseverance as a dance artist. I followed this by training in physical theatre in Austria, and Horton, Graham, jazz, House and Waacking in New York, as well as Gaga technique in Israel. Travelling and meeting other artists has been a huge part of my training.
Describe a day in your life now.
Each day is different. For example, I will be shooting a dance film, picking up costumes from a costume designer, having a collaborative meeting with a film director, then teaching class in the evening and training at home. And throughout the day I will be dealing with administrative tasks, managing my independent work, as well as projects for House of Absolute.
How important is your ranging and diverse training in your work today?
It has been imperative to finding my own individualistic style in movement. I truly believe that all types of training lead to a stronger clarity of self-expression, and therefore versatility in training can only strengthen each person to adapt and respond efficiently to different scenarios of work in today's performance industry.
What has been the defining moment of your career?
I think an important moment for me was an article written about my choreographic work in Chinese for a Chinese magazine last year during Project New Moon (produced by Chinese Arts Space). The reason being that I was able to share a part of my creative work with my parents: without them being able to witness the physical work, they were able to read about it and understand it through their own language, and that was really important to me.
What has been the most challenging?
If I am honest, I think the most challenging moments arise daily; to keep going, to work as an artist and to continually have self-belief in moments of adversity, be it personal, financial or physical obstacles.
What's the most rewarding thing about the performing arts?
The most rewarding thing is that the performing arts has the ability to create human connection and empowerment through honest expression.
What's the worst thing?
Constantly having to chase invoices when you are a freelance artist!
Do you have any pre-show rituals, either if you're performing or watching your own creations?
I always have a moment with my creative team of performers, breathing exercises, saying a few words, thanking them, telling them I love them and to have a great show.
Who or what inspired you to form the all-female House of Absolute?
I had been wanting to create an all-female company to specialise in Waacking for a few years since a collective I.H.O.W UK (Imperial House of Waacking UK, part of a New York collective) had stopped training together in 2012. I finally did this in March 2014 as I was complaining about having no one to train with apart from my international friends, who were not so readily accessible being in other countries! I was inspired to create this mainly as I wanted there to be a next generation for the Waacking community in the UK, and also because I wanted a strong female representation to push boundaries of dance performance.
How will House of Absolute be part of this year's Breakin' Convention?
We were involved in Open Arts Surgery in March 2016 and will be presenting our new work 'Warrior Queens' for the main festival, on 30 April.
What is your advice to an aspiring artist?
Keep going…
Draw inspiration outside of dance.
Collaborate and share with other artists.
Travel, travel and travel!
Surround yourself with people who draw the best out of you.
Keep believing…