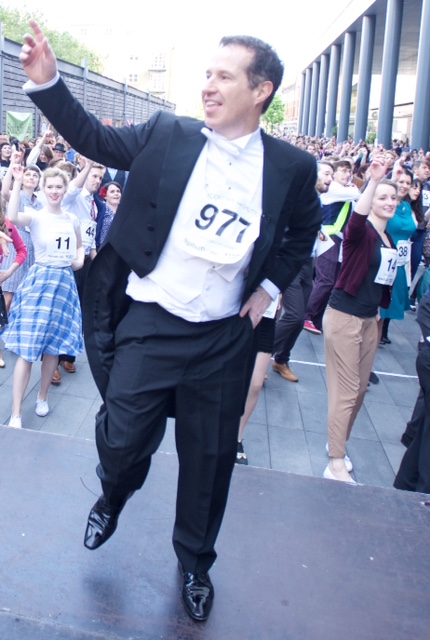 Strictly Come Dancing's assistant Charleston choreographer, Scott Cupit, recently led hundreds of swing dancers and members of the public in an attempt to break the Guinness World Records title for the Largest Charleston dance. Taking place at noon on 11 October at Spitalfields Market, London, the routine was also taught at 40 venues across London, and it could be learned by people all over the country by watching the Youtube video instruction.
Cupit, who has coached the likes of Daniel O'Donnell, Scott Mills, Judy Murray and Alison Hammond, founded the BBC Dragons' Den swing dance school success, Swing Patrol, in which Deborah Meaden invested. In his leading of the huge mass of swing dancers to break the world record, this was also raising money for Guy's Cancer Centre Appeal. Dedicated dancers of all levels, from absolute beginners to international professionals, were encouraged to learn the routine at a Swing Patrol class.
The attempt to achieve the Guinness World Records title for the Largest Charleston dance formed part of a swing dancing Megaday – which included an event exploring Scott Cupit's first book 'Swing Dance: Fashion, music, culture and key moves' in the afternoon as well as swing dancing lessons, live music and social dancing at one of London's best ballrooms, the Bishopsgate Institute, in the evening. The day also included swing music from BBC TV Record Breakers' presenter, jazz musician and record breaking dancer, the late Roy Castle, who died from lung cancer.
Guy's and St Thomas' NHS Foundation Trust is building a new Cancer Centre at Guy's Hospital to help meet the needs of over two million people across the South East. Each year the Centre will see 20,000 suspected cancer cases and treat 6,500 cancer patients. When the new Cancer Centre opens at Guy's in 2016 it will bring together most treatment and research under one roof. Uniting world-leading scientists and clinicians under the same roof will give more patients the opportunity to take part in the latest clinical trials and benefit from the most advanced treatments in development. Crucially, it will help to discover better treatments and cures faster.