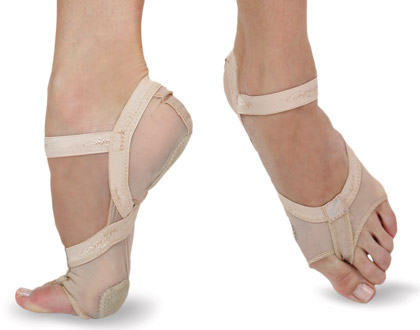 The feet are important to any human being, in terms of posture, gait and movement. For dancers the feet are constantly put under pressure as dance relies predominantly on flexible, mobile and healthy feet. Despite this there are a few common foot injuries in dancers:
Hallux Valgus and Bunions
The big toe tilts sideways towards the second toe and becomes painful, often developing bunion at its base. The pain is usually worse when wearing tight footwear, or when putting excessive pressure through the affected area, such as when on demi-pointe. The entire leg's biomechanics are often involved: to manage the problem there are options of manual therapy, stretches and strengthening exercises for the feet, ankles, knees and hips. Failing this, surgery may be required.
Hallux Rigidus
This condition becomes apparent during full demi-pointe and is characterised by pain and reduced ability to achieve a 90 degree angle at the joint between the big toe and the rest of the foot. Forcing demi-pointes causes the joint surfaces to become irritated and bony spurs can develop. Half demi-pointes should be encouraged as the forces through the affected structures are then reduced. Cryotherapy (ice treatment), mobilisation and regular stretches can help in reducing pain and inflammation.
Plantar Fasciitis
Characterised by pain on the sole of the foot that is often worse in the mornings or after a strenuous exercise session. It is caused by an irritation and inflammation of the fascial covering of the sole of the foot and, in dancers, it is often linked to dancing for long hours on hard floors. Rest, cryotherapy, anti-inflammatories and manual therapy are all helpful in its management. Orthotics and splints can be used in chronic cases to help alleviate the symptoms.
Metatarsalgia
Characterised by pain over the ball of the foot. It is usually caused by years of overuse and overstretch of the ligaments of the toes; the associated joints become too unstable to sustain body weight and pressure which leads to metatarsalgia. Rest and cryotherapy are recommended, and metatarsal pads can be used to relieve pain and pressure, and strengthening exercises is encouraged.