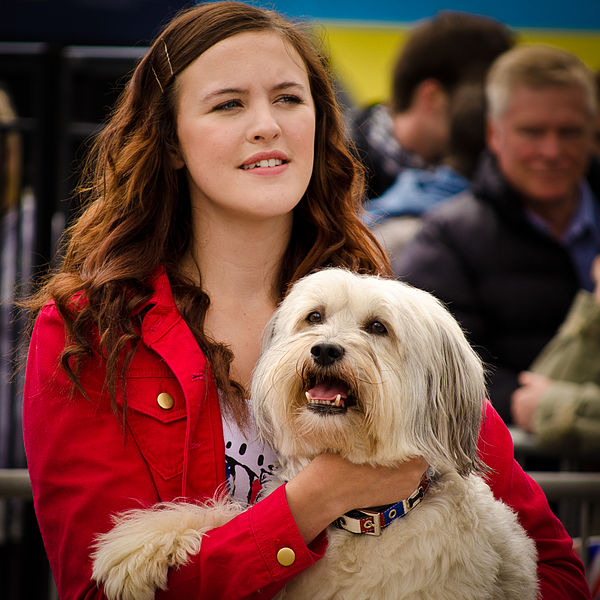 The loveable, fluffy winner of the 2012 series of Britain's Got Talent has certainly been busy since he danced away from the hit talent show crowned the winner alongside his owner Ashleigh Butler. In December of last year Pudsey, a border collie, bichon frise and Chinese crested cross, brought the house down in a dazzling Bond inspired finale at the Royal Variety Performance, performed before Her Majesty the Queen and the Duke of Edinburgh.
Pudsey's winning routine on the talent show saw Ashleigh train her pet to jump, dance on his hind legs, weave through her legs and Pudsey even ran across the judges' table! Ahead of his Royal Variety performance however, Pudsey has been a host of American talk shows and his dancing paws have even experienced Simon Cowell's private jet!
However, it seems the highlight of Pudsey's year was being the final act as a dazzling duo to perform at the Royal Variety Show, filmed at the Royal Albert Hall. The pair took to the stage, one in his furry uniform and the other in a bright pink unitard, and performed a routine with a 007 theme, devised to mark the film franchise's 50th anniversary for 2012. The routine was of an acrobatic formation set to a medley of Bond themes, showing off Pudsey's daredevil tricks and energetic leaps around the stage. Post-performance, it was thought that the double act was a particular favourite of Her Majesty.
The Royal Variety Performance of 2012 was the Queen's 36th year in attendance, and may even have seen her pick up a few dog-training tips from the pair! Alongside Pudsey and Ashleigh, the Royal Variety Performance also presented some of the other Britain's Got Talent winners take to the stage.
Image courtesy of Wikimedia Commons.