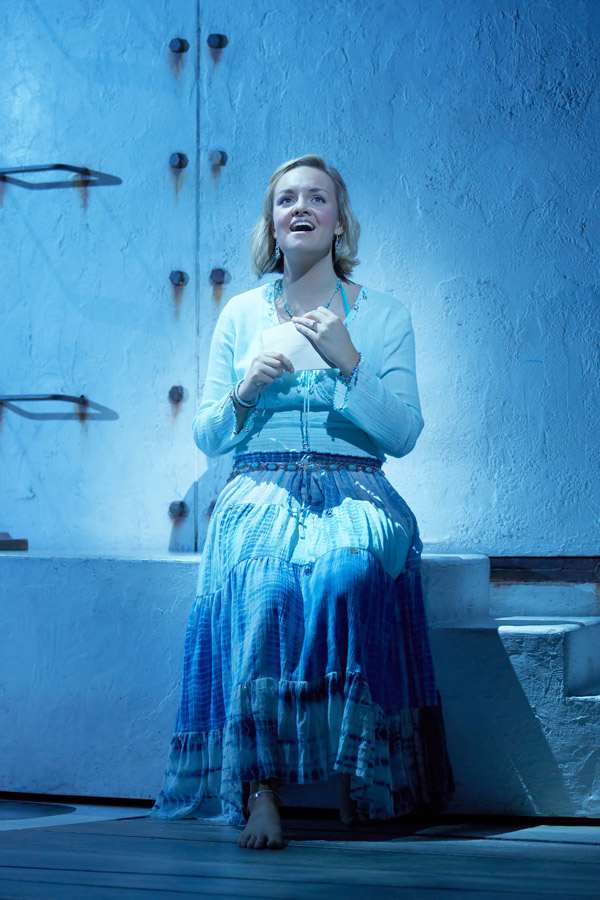 Having broken box office records at its previous homes – the Prince Edward and Prince of Wales Theatre – Mamma Mia!, now in its 14th year in London, has continued to break box office records at the Novello Theatre. Mamma Mia! originally opened in London at the Prince Edward Theatre in April 1999, before transferring to the Prince of Wales Theatre in June 2004. The musical re-opened at the NovelloTheatre in September 2012.
To date Mamma Mia! has been seen by more than 50 million people in 37 productions in 14 different languages. Judy Craymer's ingenious vision of staging the story-telling magic of ABBA's timeless songs on a Greek island sees an enchanting tale of family and friendship unfolding on an apparent island paradise. From West End to global phenomenon, the London production Mamma Mia! has been seen by more than 1 in 10 of the entire UK population. It is also one of only five musicals to have run for more than 10 years both on Broadway and in the West End.
With Mothering Sunday coming up, what better way to get in the mood than to chat with Charlotte Wakefield who plays free spirited daughter Sophie Sheridan in the hit West End musical about training, life on tour, the London show and why Mamma Mia! is the best show to come and see as mother and daughter.
Charlotte, aged 22, is a mine of information, having started working in the industry aged 10.
"I haven't actually trained professionally at all! I trained in dance from the age of 3 in classical ballet and tap, and then went on to attend Stagecoach classes at weekends. I got my first job through the agency when I was 10, and left Stagecoach when I was 18 when I was offered my first West End job."
Charlotte made her West End debut in Spring Awakening and had already worked on television from an early age.
"I stuck at it and worked hard taking lots of classes, with my West End career starting at 18 despite the fact I worked professionally from 10 years old. It's interesting as you could say I've done it the hard way: I just happened to get a break before I got to drama school. If I hadn't have got the role in Spring Awakening I would definitely have applied to drama school, but I skipped that step!"
As a result, Charlotte's experiences were a little different than those of typical drama school students, but she still feels as though she has learnt a lot from the way things have turned out.
"I didn't manage to create a network of friends as you would at drama school, but I did make close friends with the people I worked with in Spring Awakening. We were all aged 16 to 25 and were starting out making our West End debuts, so we shared something special. I learnt a lot on the job, which is priceless, rather than learning at drama school, and experienced the industry first hand straight away. I feel I have become more of a 'raw actor' because of it, and have learnt different skills from other actors, and have been able to make my own choices."
Whilst Charlotte's journey into the theatrical industry may not be a typical one, she is now settled into life as Sophie as the leading female in Mamma Mia!.
"Half term meant we worked a 9 show week, adding in an extra matinee performance, but my day-to-day life is quite straight forward. At the moment I am auditioning during the day and having singing lessons, but I try not to push myself too hard through the week and make sure I chill out. The adrenaline from the evening shows means that I go to sleep around 1.30am, and try to sleep for a full 8 hours. During the day I usually have a singing lesson, a massage or an appointment with a physiotherapist and then leave for work at the theatre. We have a vocal and physical warm up and then I do my own stretching before getting ready for the performance."
With a show that is as demanding as Mamma Mia! Charlotte has to work very hard, especially as her character Sophie is such a content-heavy role. Before securing Sophie in the West End, Charlotte also played the main character for a year on the International Tour.
"Touring is completely different to working in the West End! We did a worldwide tour of Mamma Mia! and spent about 2 weeks in each place. We were playing on a much bigger scale – the set was twice the size! – and sometimes played to arenas of around 5,000 people, which was a massive experience! The show atmosphere was very different, and we were able to go and visit places and explore during the day, which meant travelling to these amazing places was so much fun, while we were doing a job we loved."
The bright lights of the West End have called Charlotte back, and now she has chance to reflect.
"I always wanted to play Sophie, and I got the chance to do it whilst travelling the world, as well as doing it here in London now – I was lucky to be cast again. I wanted to work in this industry for years! The West End seems like a dreamy place, but we have to work hard at our jobs. It's taxing on our bodies with injuries and exhaustion, and performing is a dream for most people. There are lots of tough parts to doing your hobby professionally – your friends can be your competitors in auditions, and you need a lot of stamina, physically and mentally. But, once you get on stage you absolutely want to do it!"
The role of Sophie is a busy one for Charlotte, but she relishes in being able to give the audience something special, especially in a show that is as popular as Mamma Mia!.
"I haven't got a favourite part of the show as the whole thing is so much fun. There's a big finale which is a 7 minute long megamix of ABBA songs and lots of dancing. The audience can finally stand up and dance and sing too after itching to join in, and can let go and enjoy themselves! Sophie is a very hectic role, so if I ever come off stage it's for a quick costume change and I'm back on – the whole show is one big scene for me!
Sophie's relationships with the many characters are varied, but it seems none matches that with her free-spirited mother Donna, forming much of the dynamic within the show.
"Donna and Sophie are very close characters as they are both fairly free spirits. There is no husband/father figure as such in their lives and they have built up their existence on a Greek island on their own. Their relationship is quite casual, more friend-like than authoritative mother-daughter. Sophie is free too and is naive for that reason, and that's what causes their fall-out. It's an odd feeling as they are very similar, but the audiences love the characters and the relationship between them."
With Mothering Sunday coming, the eternal relationship between Sophie and Donna is epitomised by mothers and daughters everywhere. Charlotte thinks seeing Mamma Mia! is the perfect mother and daughter outing, with now being an ideal time.
"Sophie putting on her wedding dress and getting married are just two lovely moments which make up the female-strong show. Slipping through my fingers is particularly moving song about mother-daughter relationships, as well as the friendships and girl power which make the show happy and uplifting for mothers and daughters watching. Mamma Mia! definitely gives something to share with mothers and daughters being together.
Coming to a close, Charlotte gives a few pointers and helpful advice for aspiring performers.
"Always remain positive. There is so much rejection in the industry that you have to keep trying, be strong willed and always accept criticism. Be over prepared for auditions and make sure that you really want to enter the industry, because if not there will always be someone who wants it more than you! Above all, it is the most fun job in the world but it is not easy. Work hard!"