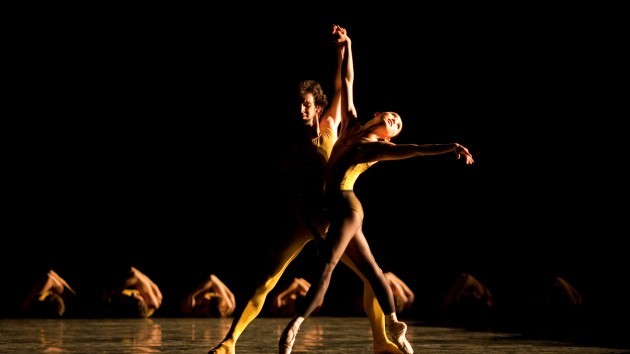 Image courtesy of IFDB.
I was taken to watch the Royal Ballet Flanders show of William Forsythes 'Artifact' on Saturday night…  a popular night to go it seems, with Dame Monica Mason, Carlos Acosta and Christopher Hampson (Scottish Ballet's new artistic director) in the audience. Judging also from the audiences response and the excited chatter during the intervals, Royal Ballet Flanders performed an amazing show of Forsythe's first and most famous ballet created in 1984.
The movements were sharp and precise yet with undulating and soft upper bodies in contrast .A lot of the corps de ballet work was performed with an army like discipline. Skintight green and yellow costumes dominated each half of the ballet showing of the elastic extensions and sharply defined steps of Forsythe's clean yet very tricky technical choreography… which had been rehearsed to a very high standard. Perfect canons and sequencing during the corps dancing, with knife like technique was stimulating to watch.
The dancers were illuminated from below initially, and then from the sides, in white beams of light as they danced on an open stage without wings. There were immaculate formations made especially difficult by the sharp lighting and seamless, sometimes unseen, exits and entrances.
The pas de deuxs seemed to involve inhuman control and energy within each of the partnerships, and the men in particular in their group, duet and solo numbers danced with cat-like lightness and fluidity in their movements, with silent, soft landings from their perfectly executed allegro.
The dialogue in part 3 is ad-libbed and there was one solitary boo from a lady in the audience as the curtain fell on that act… I assume because of the use of language, but it was the passion, anger and frustration and freedom of speech that was more the point of the dialoge in that particular act.
In my opinion we should see more Forsythe's work of in this country. It would be as appreciated as much as it is abroad and the three shows here were just not enough for London's hungry dance audiences.
Amongst the principles was Kate Strong, a character principle whom I last saw in Berlin performing another similar type of theatrical role. In Artifact, her narrative performance was perfect and there was no sign of a nervous falter in her voice. Every single word was clear, powerful and used clever,interesting.questioning phrases.
Kate trained at the Royal Ballet School (lower and upper schools) and was one of the original dancers upon whom Artifact was choreographed. Kate says that "Forsythe was a great man to work with, letting [dancers] rest when they needed to and change something if it didn't work." She danced with his company for 10 years 1984-1994 then travelled throughout Europe guesting with ballet companies, particularly with Forsythe's works. She also started working on freelance projects, broadening her experience in Europe, especially in France and Germany. Over the past few years she has turned to theatrical acting as another string to her bow; a bow that she is undoubtedly tightening. She hopes to return to England again and be involved in the niche she has created for herself in Europe.
Artifact And The Future Of Royal Ballet Flanders
There are two more opportunities to catch the company performing Artifact in Birmingham this week (tonight and tomorrow at the Birmingham Hippodrome, 7.30pm). Tickets are available from the Birmingham Hippodrome priced between £15 – £32.50 (plus 5% transaction fee).
Sadly artistic director Kathryn Bennetts leaves the company this year due to the decisions of merging the company with the Opera. "Artifact is about the distancing of the two rather than bringing them together", Kate says quietly as she retires to her hotel and leaves me in the evening's drizzle to join the other dancers for a chat at their post-performance celebrations at a nearby restaurant.
The general feeling about the future of the company is one of curiosity and a loyalty and faith in their director for her desicion to retire from Royal Ballet of Flanders and her future without them for whom she has done a fantastic job.