Although it's around a year old now this interesting video for the Leeds based band Stateless's song Ariel includes a "digital" performance from dancer Dominic North.
The dance was completely improvised by Dominic, the concept behind  it being the struggle between good and evil.
If you are interested in finding out a little bit more about how Ariel was made, the following video outlines the ideas and motivation behind the it from those involved as well as a short interview with Dominic about his improvisation.
About Dominic York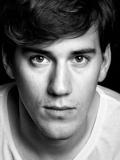 Originally from Leeds himself, Dominic studied at London's Central School of Ballet and has been a permanent fixture in Matthew Bourne's New Adventures dance company since 2004. During this time he has appeared in more productions than any other member of the New Adventures ensemble, including leading roles in Dorian Gray, Lord of the Flies, Edward Scissorhands and Nutcracker! You may also recognise Dominic's name from his appearance as the Prince in Bourne's re-interpretation of Swan Lake (in 3D).
Dominic has been nominated as Best Male Dancer (Modern) in the 2009 National Dance Awards (for Edward Scissorhands) and was The Dancing Times' "Dancer Of The Month" in January 2010.
Image of Dominic West courtesy of Dancers Pro