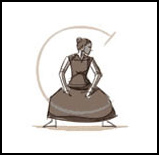 Something for those who missed it the first time around…
On May 11th last year, Google commissioned the following animation on it's homepage to commemorate the birth of Martha Graham in 1894.
Martha Graham Google Doodle
Google – Martha Graham from Ryan J Woodward on Vimeo.
The person responsible for the animation was Ryan Woodward, a US based animator/designer, storyboard artist and illustrator. Woodward worked with members of the Martha Graham Dance Company in New York to produce the short "Google Doodle", which celebrated the legendary career of the eponymous dancer.
As someone who is passionate about contemporary dance, Woodward also created the following short film entitled "Thought of You", which has won a number of awards since its release in 2010. It is such a beautiful animation that it deserves to be watched again and again!
Thought of You
Thought of You from Ryan J Woodward on Vimeo.
Simply lovely!
There is also a video of the making of "Thought of You", which includes Ryan Woodward's motivations for making it.